FAQ
Frequently Asked Questions
If you have questions about our modular home designs, we're
here to help you find the right answers. Check out our list of
FAQs below or reach out to our team for more information.
Siting and Design
Do you have any homes on display?
We have a display village in Gnagara and we welcome you to visit and chat with one of our knowledgeable Fox sales and design consultants.
How much are Fox Modular Homes?
At Fox, we work off a base pricing structure, which means you have the option to make upgrades depending on what's important to you. We will work closely with you to achieve this. Final prices may vary depending on the size of your home, your inclusions and its location. Call us today for a quote.
Can Fox Modular Homes be installed on a narrow site?
Yes, in some instances our trucks cannot get the modules to the required location as the driveway/site is too narrow, we may have the option to utlise a crane for the final placement.
What cooling and heating options do I have?
Our base pricing for our Fox Modular Homes includes reverse cycle air conditioners to keep you cool in Summer and warm in Winter.
What size are the modules?
Our designs range from 2 bedroom homes to 5 bedroom homes and the width of each module varies from design to design, so we are sure you will find something that will suit your needs. Should you not be able to find the right size we can also customise any specific design requirements. View our designs here.
Can I make changes to the standard floor plans?
Yes, you can. If you love one of our designs and want to make changes give us a call, and we will work with you to get you exactly what you want
How long will it take from start to finish?
As a general guide, pre-construction can take a minimum of six months depending on how quickly relevant reports are received (four months if no planning is required), and construction & installation can take between 7-9 months. Please note these are estimated timeframes and are subject to a number of factors including suppliers and weather.
Can Fox Modular Homes be installed on a sloping site?
Yes, we work closely with our engineers to design a footing system to suit all sites and will work with you during the Preliminary Design Stage. A benefit of building with Fox Modular on challenging sites is that an engineered footing system is installed prior to the modules being delivered. This minimises site impact and neighbourhood disturbance is greatly reduced as the installation process is much quicker.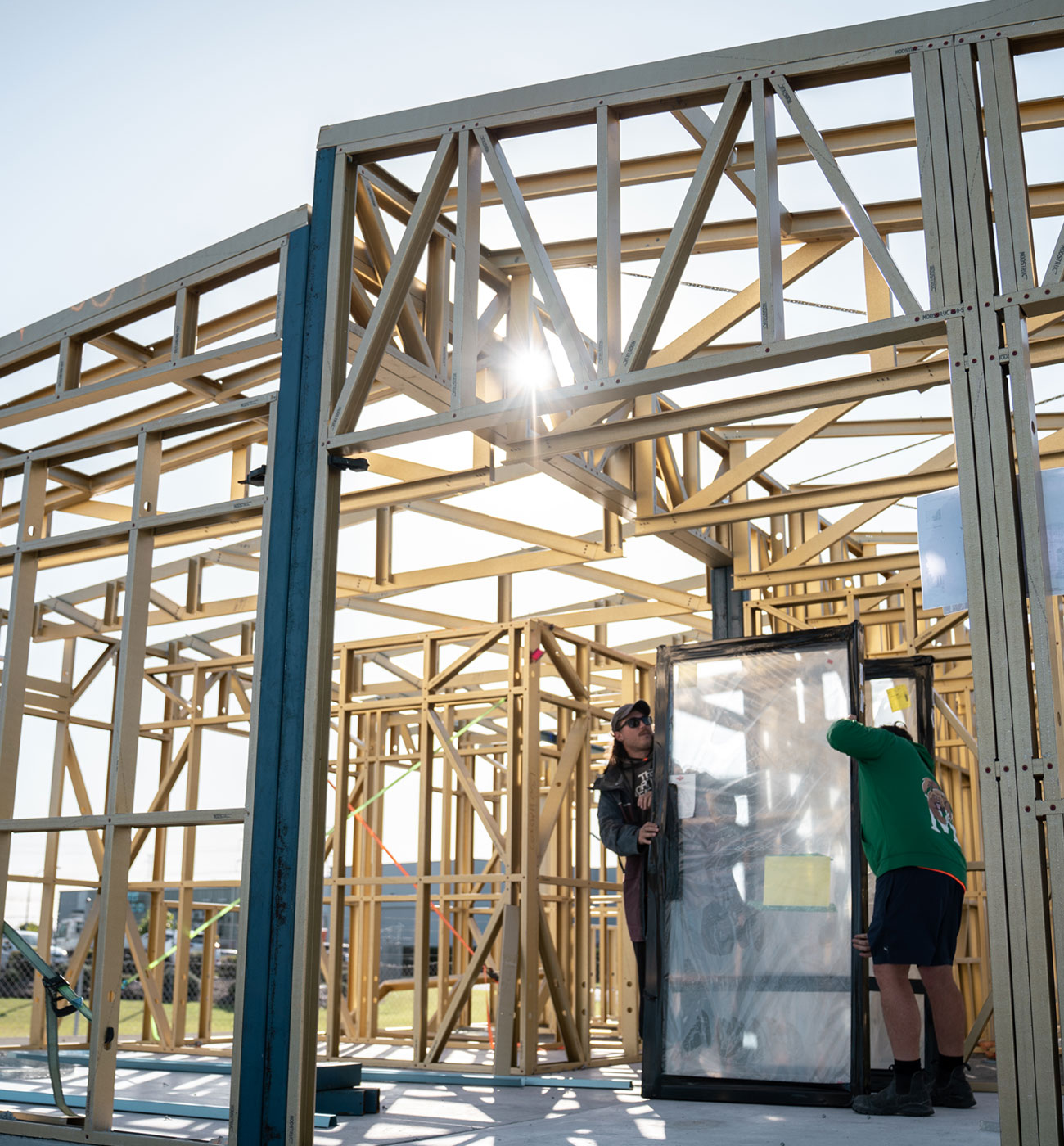 Materials and
Energy Efficiency
I want my Fox Modular Home to be as sustainable as possible, how can I achieve this?
Your dedicated Fox team will go through your plans and come up with a suitable plan for your home design – this means we look at your windows, shading, insulation options and control the temperature in the most natural way possible.
Your home will be built offsite in our factory in Gnangara. During this time, your land will remain untouched as we work on your home. Fewer materials are required while lowering the amount of waste we produce. We follow a system that enables most sites to avoid the need for excavation, including those properties located on a slope.
Additionally, we offer a variety of options to our clients that support the health and sustainability of our planet. These options include the use of paints and stains with low VOCs, solar panels and hot water systems.
Can I add solar panels to my Fox Modular Home?
Solar panel installations are compatible with the majority of our Modular Homes. Our Fox team will be able to provide you with a solution that is best suited for your home, region and site orientation.
I'm interested in 'living off the grid.' What are the most important things I need to know?
Living 'off the grid' mans that you don't rely on everyday utilities such as water, gas, sewerage and electricity and manage your day to day needs yourself. We would recommend you do research into 'off-grid living' as Australia does have specific conditions and limitations.
What are energy ratings and how do they work?
Energy ratings are measured using a star rating system from 0-10 with a 6-star rating or equivalent required as a minimum. Computer software is used to model the home and takes into consideration things like the construction materials, the local climate, home orientation, its layout, colours and floor coverings.
Permits, Regulations and Compliance
What permits are required?
A building permit is mandatory for all construction, while a shire planning permit is only required in some cases. Shire planning applications and approvals may take up to 12 weeks. We manage both of these processes on behalf of our clients and a quotation to obtain these permits is provided at the planning stage.
Why do I need a soil test?
It is a mandatory requirement that every new construction site obtains a soil test. Soil testing will assess the soil composition and determine if the ground can withstand the forces applied to it, in turn determining the footings required for the weight of the home. Each site is different and a soil test will ensure the appropriate footing system is designed for your new Fox modular home.
Will Fox help with the subdivision of my land if needed?
Unfortunately, we cannot advise you on your specific case when it comes to subdivision of land, having said that we will do what we can to help you and can provide you with general advice.
Do I need a Bush Fire Assessment Rating (BAL)?
A Bush Fire Attack Level (BAL) Assessment is required for bush fire-prone areas. All developments on land that is designated as bush fire prone have a legal obligation to consider bush fire and meet the requirements of Planning for Bush Fire Protection 2006 and AS3959 – 200. Our Fox team can help you with obtaining a BAL assessment for your property.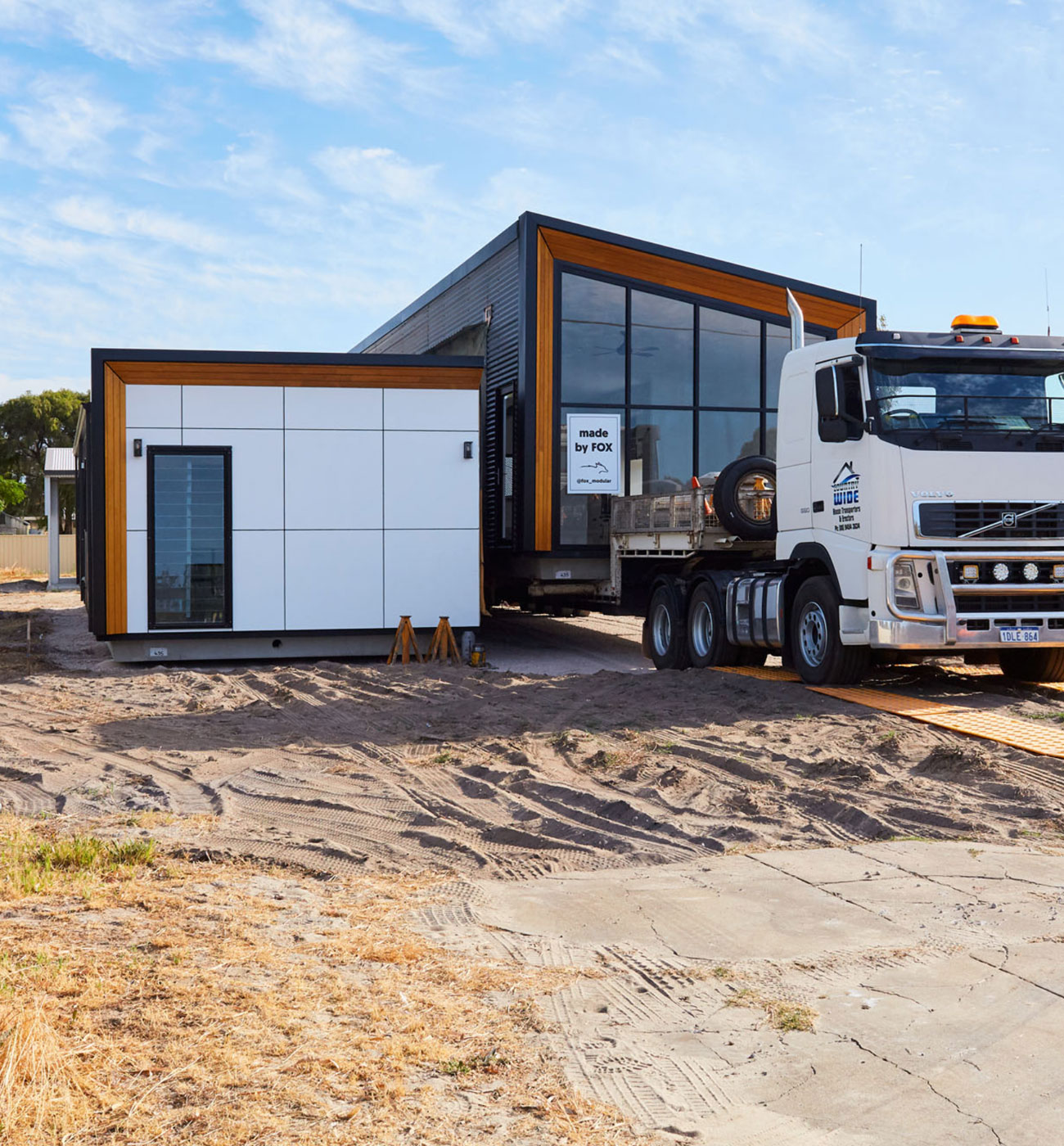 Logistics and Site
How long does delivery and installation take?
Delivery time may vary depending on where in WA you are located, the majority of our on-site installations are completed in a single day. Complex projects may take longer than a day to install.
How much are transport costs?
Transport costs are dependent on the distance of travel required and the size of the modules. An estimate is calculated early on at the preliminary price stage.
Are Fox buildings resistant to extreme climates or weather events such as alpine/desert regions or cyclone prone areas?
Yes, our Fox modular homes can be designed to suit any climate in Australia. Each module configuration will be designed to harness the site-specific requirement
How will my site be prepared for the Fox delivery?
Following a soil test, an appropriate footing system will be designed for your site. Our standard footing system replaces the need for extensive earthmoving or levelling equipment. The footing locations are determined by our plans and the pre-built modules are fastened to the footings.
How much is a crane hire?
Crane hire is only applicable to projects with access issues and multiple storeys. For straightforward installations, crane hire can be around $5k while more complex deliveries where longer hire periods apply costs can be up to $10-$20k. Following a site visit, an estimate is provided.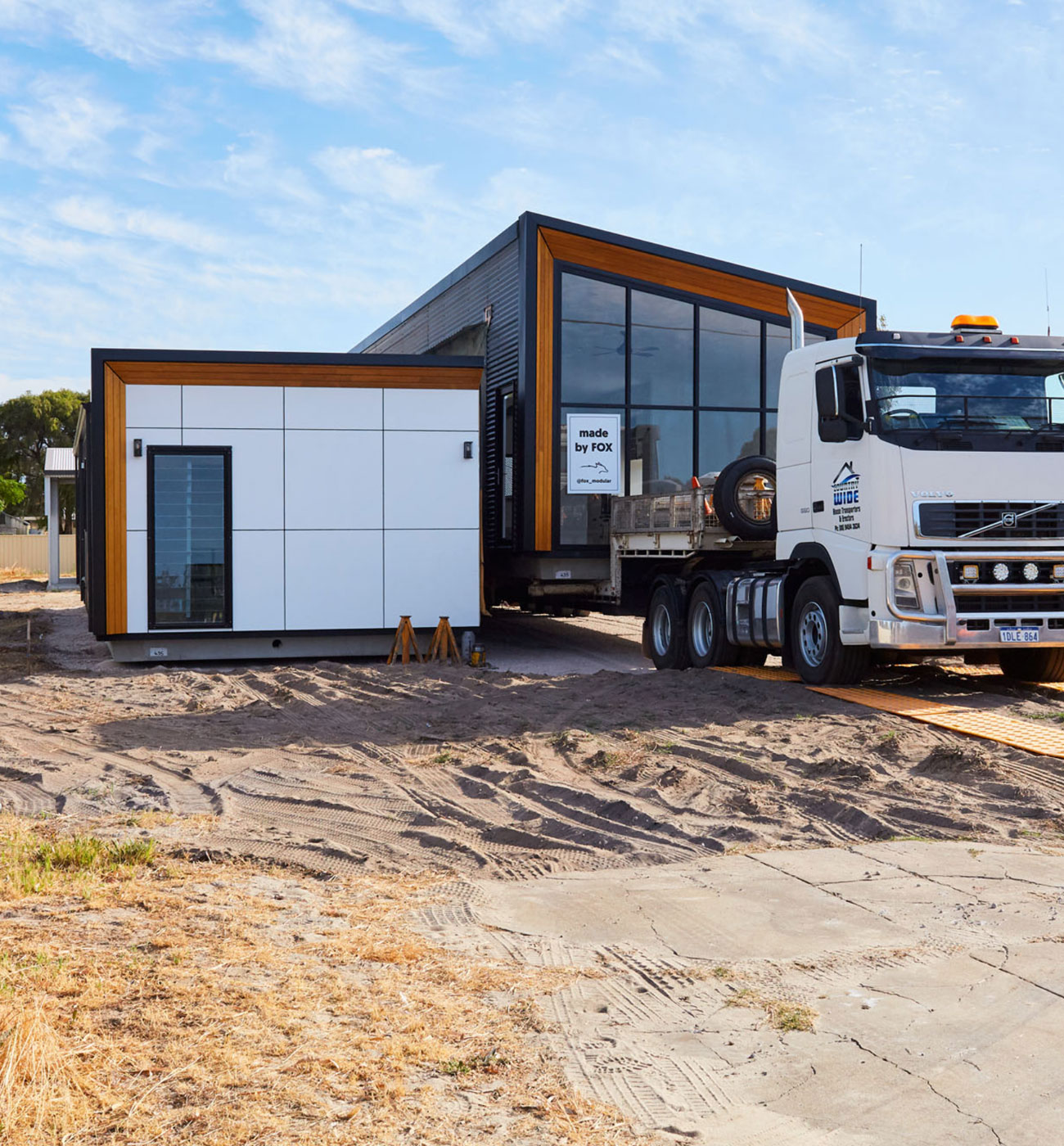 Warranties and Finance
Are Fox Modular Homes eligible for the First Home Buyers grant?
Yes, however, we encourage you to engage and speak with the governing authority to ensure that your situation and circumstance make you eligible.
How is your pricing structured?
Each of our Fox modular homes is unique to its buyer – we work off a base pricing system, which allows you to pick and choose from our upgrades list, this way you get exactly what you want. Our aim is to ensure you know exactly what you're getting and how much it will cost, with no surprises along the way.
What warranties will I get with my home?
We offer a standard 10-year structural warranty on all our Fox modular homes.
Is Fox Modular able to provide any financial advice?
Yes, we work with trusted partners who are familiar with the prefabricated housing industry, If you are unsure of where to start, please feel free to contact us to discuss.
Our friendly team
are here to help
What does the Fox say? Reach out to our friendly team today and let's start a conversation. Whether you just want to chat through ideas or start your dream project, we're ready when you are.