Written by Fox Modular | 17 August 2023 | Modular Homes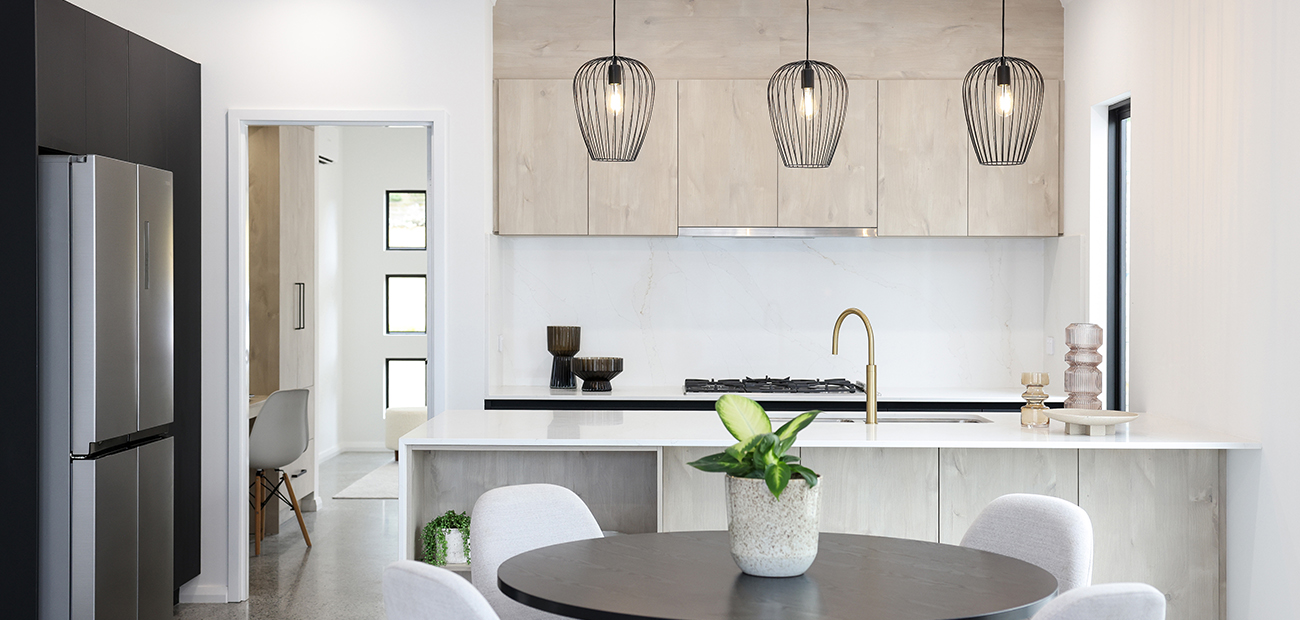 There's a good reason why the kitchen is often referred to as 'the heart of the home.' It's a central place where families can come together, good food (and good times) can be shared, and memories are made.
With that in mind, a lot goes into creating the perfect kitchen. At Fox Modular, we take many factors into consideration during the design of our homes, ensuring the kitchen plays a central role. Below are just a few ways we make that happen.
The kitchen triangle
To achieve a sense of space and flow, the kitchen triangle method is a great place to start. The kitchen triangle refers to the positioning of the three main points of contact in a kitchen: the fridge, stove and sink. The idea is to make the connection between the three points as clear and uncluttered as possible.
Other considerations include:
The amount of people in the home (i.e. the size of a kitchen in a two bedroom home vs a five bedroom home will be quite different).
The positioning of windows to allow for as much natural light as possible.
Using corner spaces efficiently to avoid any wasted space.
Choosing the right layout
The right kitchen layout depends on the size of the space (and how many people are using it). Here are some of the most popular kitchen layouts used by our team to maximise the feeling of space and efficiency in our designs:
U-shaped kitchens – this layout offers incredible storage potential, as well as ample benchtop space.
L-shaped kitchens – these are very popular in modern designs, with a large open space that can fit an island bench.
Galley kitchens – popular in smaller kitchens, galley designs put everything you need right at your fingertips.
Single wall kitchens – the perfect choice for downsizers, with a compact design that utilises clever functionality.
Creating the perfect finish
Once you have the right kitchen layout, it's equally important to create the perfect finish. At Fox Modular, this includes the latest Westinghouse appliances, Caroma tapware and a mix of durable and stylish materials for the benchtops and cabinetry.
Lighting also plays a big role in the finished design. This includes a mixture of task lighting (for food preparation), accent lighting (such as pendants to set the mood) and abundant natural light to create a feeling of light and space.
Take a look at our modular home designs
At Fox Modular, we're proud to offer modular home designs for every lifestyle and budget. Each home includes a modern kitchen packed full of convenience and good looks. If you'd like to see our designs up close, you can view our range for yourself, or visit our Display Village to see what's possible.  We look forward to seeing you soon!